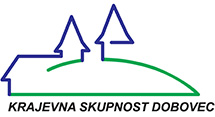 The Dobovec Local Community is situated in the village of Dobovec, which is in the central part of the Kumljansko region. The Kumljansko region lies in central Slovenia, in the Central Sava Valley, amidst the Sava Hills. It comprises the southern part of the Trbovlje municipality that stretches out on the west bank of the Sava River. Its surface measures 23 km2. Next to the village of Dobovec, the hamlets of Škofja Riža and Završje lie to the West and Ključevica and Župa are in the Eastern part of the region.
The most obvious characteristics of the Kumljansko region are the extreme relief diversity with the prevailing steep parts and the high forest cover. The area is botanically and zoologically rich in rare species. Due to the fertile land, our areas were exclusively agrarian in the past, with agriculture and livestock production, whereas the wealth of forests was responsible for the development of forestry.
The altitude of the region ranges from 300 metres next to the Sava River to 1,219 metres at the highest point of Kum, which is the highest peak in the Central Sava Valley, after which this area was named. The top of Kum is a pleasant excursion point for daily, weekly or holiday recreation. It is also attractive due to its view over almost all of Slovenia.
Because of its interesting geographical diversity, frequent geomorphologic monuments on the surface and underneath it, the cultural and historical monuments and the diversity of botanical and zoological elements, the entire area of the Dobovec Local Community is protected and declared an area of the Landscape Park Kum and a nationally important area of Natura 2000 as well as an ecologically important area.
Despite its precious natural and cultural heritage, this area has been listed as a demographically endangered area for years. Two hundred years of mining and the simultaneous development of heavy industry left a permanent mark on the environment and the people, which is also reflected in the rustic way of life in the Kumljansko region. After World War II, its residents started to be employed in numerous industrial complexes in the surrounding municipalities. The residents of Kumljansko are reputed as working, hospitable and nice people, which can be seen through their volunteer work in sports and cultural societies and many well visited events, among which some have become traditional and recognisable all over Slovenia.
Dobovec Local Community
Address: Dobovec 49, 1423 Dobovec
Telephone: + 386 3 563 91 23
President of the Dobovec Local Community: Ervin Renko
Telephone: + 386 3 563 91 23
E-mail: renko.ervin@gmail.com
The contact person: Špela Volaj
Telephone: + 386 41 933 180
E-mail: spelavolaj@gmail.com